Unless you have been living under a rock over the past week, you would have seen at least one news story about how Twitter went from a public traded company (with a team actively trying to combat disinformation) to a $44 billion dollar take over from Tesla owner Elon Musk.
It's been an active week to say the least, considering that he's laid off 50% of Twitter's workforce via a mass email last Friday and more of those resigning in droves this week. Just yesterday (Nov 17, 2022) he locked out the remaining staff over the weekend and re-opening Monday for reasons unknown.
Even Alison Green over at Ask a Manager weighed in on the situation with a mid-senior level Twitter staffer who's unsure of the next career move with her article I Work at Twitter… What Do I Do?
Silicon Valley Lays off 25,000+ Employees
Of course, Twitter isn't the only Silicon Valley tech company to layoff staff. Meta, Amazon, Stripe, Lyft, and other companies have have gone ahead and laid off more than 25,000 people total. Reddit user Savoy_Cabbage charted data from layoffs.fyi just to show how active things have gotten in the past few weeks.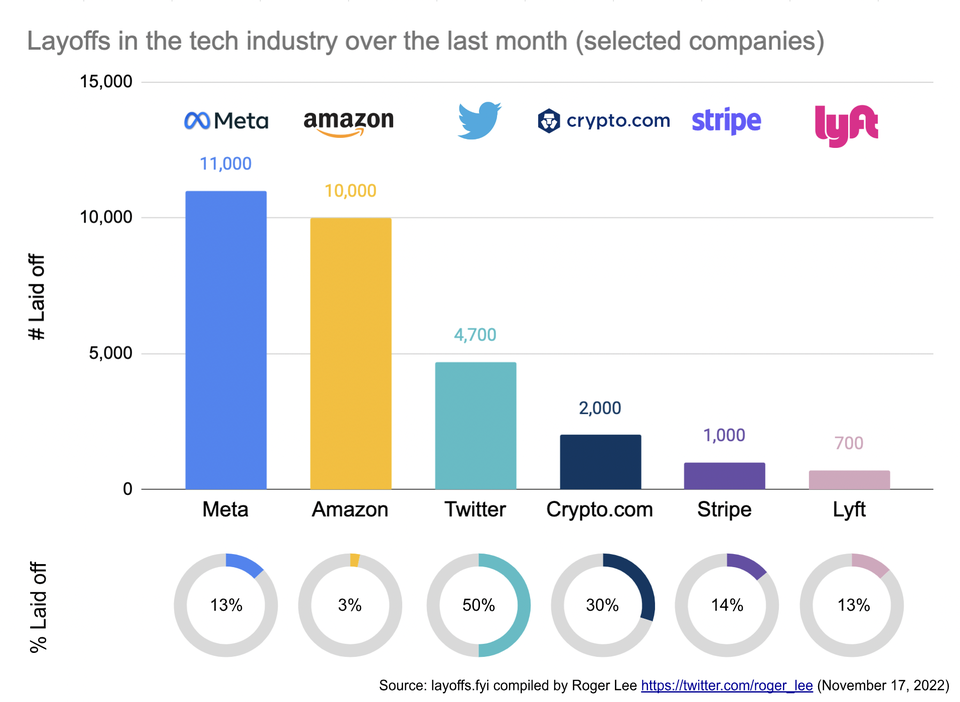 In terms of population for California and the United States as a whole, 25,000 people being laid off is a very small number in the grand scheme of things. Having said that, these people were working for some of the biggest organizations in the world. They were privy to internal operations in various teams such as sales, marketing, data engineering, etc.
When you take into account these employees education backgrounds coupled with their insider knowledge of operational processes (especially those at the senior staff levels), I can only assume this is a positive outcome for the tech industry as a whole.
Mastedon and TikTok a sign of things to come?
There's been a lot of news coverage about the not-new Twitter "rival" known as Mastodon (founded in 2016). A lot of existing users unhappy with how things are going over at Twitter are looking for an alternative to the platform. I even signed up with the Canadian server mstdn.ca for my own account just to see what the fuss was about.
There has been criticism regarding how this platform falls short of being the next Twitter (and I'd have to agree). It's not there yet, but also I don't think Mastodon was prepared for the influx of users over the past month. I don't want to discredit this social platform yet. Although I think this is a sign of good things to come to the Social Media landscape as a whole.
With these recent layoffs, I fully expect there will be a small cohort of people looking to build alternative social media channels (perhaps putting more emphasis on data privacy and less data harvesting algorithms), but going up the multi-billion dollar Goliaths like Musk, Zuck, and Bezos will be a challenge considering the insurmountable costs it takes to run a social media channel without introducing advertising, selling data, etc.
On the other hand, you've got the Chinese-owned TikTok who we know aggressively harvests user data and yet it's one of the fastest growing social channels over the past few years.
Either way, it's an interesting crossroads we're at. The late 2000s and 2010s was the time of "Digital Disruption" for the both the print industry and traditional advertising / marketing sector. I can only imagine that the 2020s will become some form of "Social Disruption" either in favour of decentralized channels like Mastodon, data-harvesting channels like TikTok, or a mix of the two.
Only time will tell…